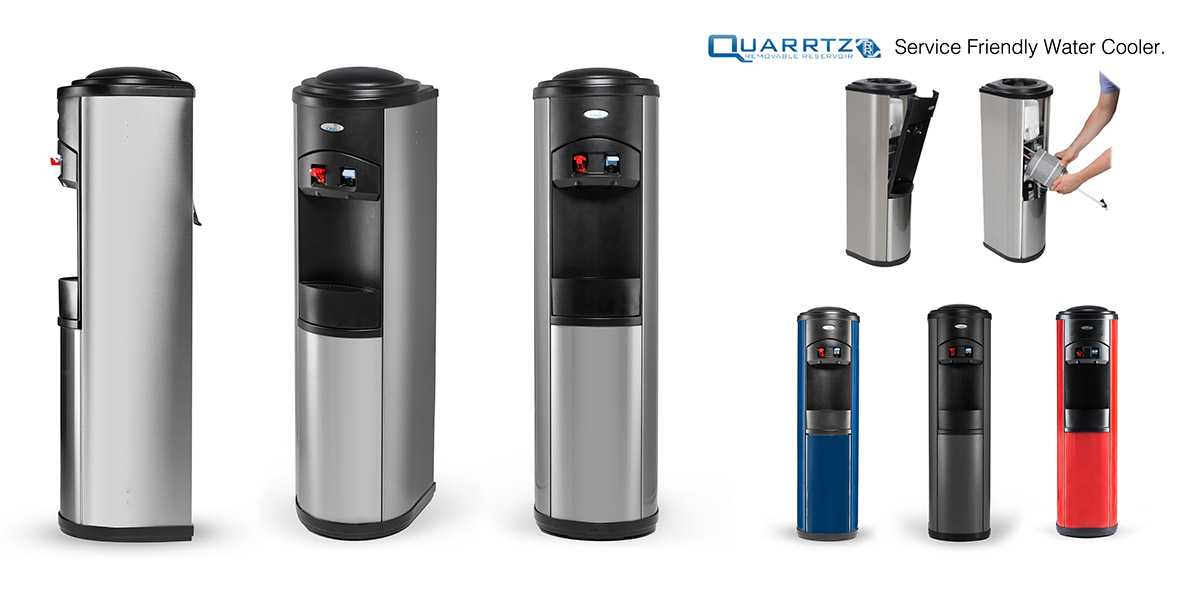 QUARRTZ POU
The QUARRTZ's sleek, stainless steel body with contrasting ABS injection moulded trims creates a sophisticated modern aesthetic
With its innovative cabinet design, hot tank replacement can be accomplished in just 4 minutes.
The 'inside-out' cooling probe design used throughout the entire range of Removable Reservoir coolers ensures a more efficient cooling method, conserving energy and eliminating condensation within the cooler.
The self supporting cooler chassis can be quickly and easily removed from the cabinet to simplify the maintenance and servicing process. The removable reservoir system simplifies the sanitization process – just replace the water contact parts with pre-sanitized components. Requires no replacement of disposable parts or use of messy chemicals at your customer site.
QUARRTZ Service-Friendly water cooler improves the access to the quick connect hot tank and other internal parts, replacing the Hot Tank now takes only 4 minutes compared to 10 minutes for our traditional RR models. A service technician can now work on a cooler without removing the chassis from the cabinet, also avoiding any possible accidental wire disconnection. To service the cooler, only one screw needs to be removed.
Colour Options
Stainless Steel & Black
Blue & Black
Red & Black
Dark Grey & Black
Special Features
REMOVABLE RESERVOIR
Inside-Out cooling probe
Efficient and proven technology
High quality = longevity
Range of hot tanks available